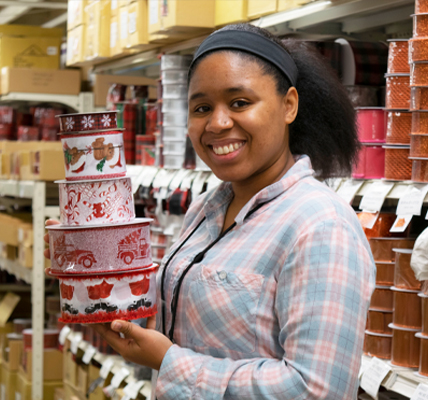 Novelty Holiday Ribbon.
With Deneshia Ellison

Ribbon Merchandiser Deneshia shares her love for these cute Novelty Holiday ribbons.

Here's what she loves about this selection:
• Putting the fun back in wrapping: These ribbons add a cheerful and Beautiful look to any Holiday gift parcels, or even wrap them around pillar candles to liven up any table setting.
• Spruce up your tree: Cut these ribbons in strips and add them as Christmas tree decorations, they add a colorfull and whimsical touch to any size tree.
• Timeless: These ribbons will never go out of style, and are perfect for all types of winter theme DIY crafts, including sewing projects, hair bows, key fobs, Christmas bows, scrapbooking, to mention a few.