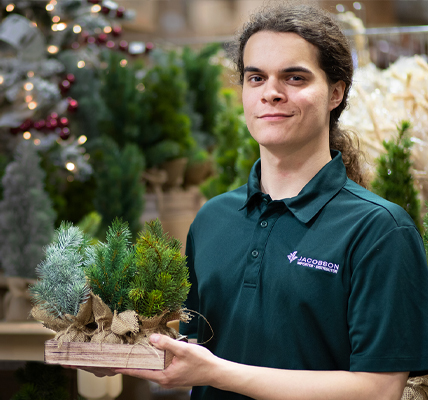 Mini Pine Tree w/ Burlap Base, Assortment.
With Jacob Luna

Inventory Specialist Jacob Luna, shares his favorite pick with us, these assorted Mini Pine Trees.

Here's what he loves about this selection:
Quick and Easy: These Mini trees really take the hard work out of decorating. Set in a weighted burlap base and presented in this wooden tray, they make the perfect hostess gift for any Holiday party.
Multi-purpose: Set it on your desk to bring a little Christmas cheer to the office, or at home for a charming rustic feel to any table or counter top, or even down a table runner as a centerpiece.
Versatility: Each mini tree acts as an accent piece by them selves, but can also be decorated individually with with lights, ornaments or what ever Holiday decor your heart desires.