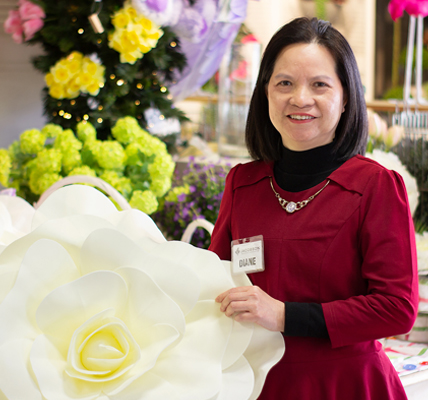 Eva Rose Flowers
with Diane Yee
Jacobson Sales Account Rep, Diane Yee, can be found front and center at Customer Service so she has a great pulse on trendy items in the store. Plus with over 19 years at Jacobson, we'd say she knows what's hot and unique! Diane's Staff Pick is the Eva Rose Flower Collection.
Here's what she loves about them!
You can get any color you want! Wonder why they come in Ivory? Because these flowers are the perfect canvas for Design Master spray paints! Achieve a variety of looks for all seasons by choosing from the entire Design Master color palette. We have over 50 colors in the store every day!
They take spray paint REALLY well: OK, we're still obsessed with the fact that you can get whatever color you want. New to Design Master paints or nervous about how they'll come out? Don't be! These Eva Rose flowers take color so well and the paints are so easy to use. Go for a solid or a graded tone look or even multicolored!
They're a real showstopper: Whether it's a giant flower wall for an event or a window display for your own shop, these flowers make a statement. Maybe they start a conversation or totally stop one in it's tracks, but either way these unique flowers bring the wow factor.
They come in three sizes: Bring dimension and variety by combining the 12", 20" and 28" diameter flowers on your displays. Or just enjoy the fact that you could fill a large or smaller space with these babies. Let your creativity shine!
Amazing versatility at a great value: From Valentine's Day to Mother's Day and all your spring a

nd wedding work, the Eva Rose flowers can fit a variety of seasons and events. Plus they're great value! Shop in store or online and see for yourself!
Check out Suzanne Sampson AIFD, CFD, NHMFD, as she demonstrates how to spray paint our large Eva Roses with Design Master paints.
Buy Design Master Paints here!