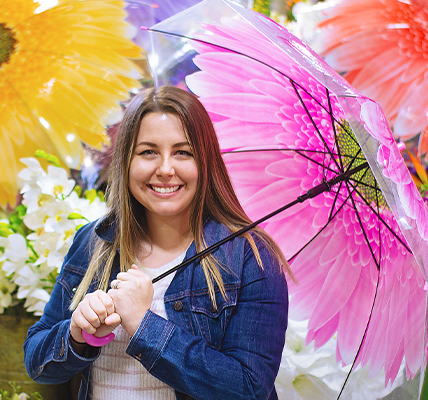 Assorted Flower Head Umbrella
With Patricia Resten

Jacobson Sales Support Rep, Patricia Resten, is excited to share her eye-catching Staff Pick. With several years of floral experience, Patricia has a keen sense for unique and playful decor!

Here's what she loves about this selection:
Bright & Bold: These assorted umbrellas are available in four distinct colors and feature an eye-popping flower print that screams, "Spring and Summer are approaching!".
Decoration: Whether you use them indoors or outdoors, hang them right-side up or upside down, they provide a unique element to your decor that'll make your guests stop and stare.
Versatility: Bring out your inner Mary Poppins! "In every job that must be done, there is an element of fun." These umbrellas aren't just pretty decor, you can use them like any other umbrella and shield yourself from all the rain we get in Massachusetts!.