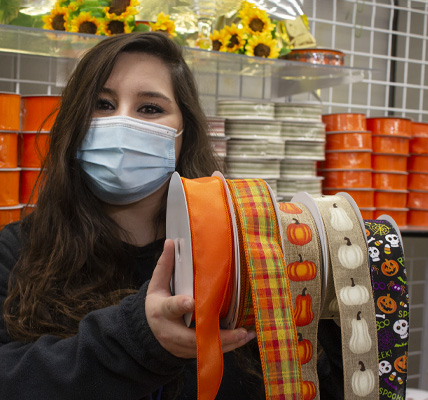 Halloween Ribbon.
With Courtney Sawyer.

Cashier Courtney loves our Fall Ribbons, from spooky trick or treat to warm autumn plaid, we've got every inch of Fall covered.

Here's what she loves about this selection:
• Halloween Themed Designs - Whether you're donning the decks for a Halloween bash or getting crafty and looking for the perfect spooky design. Such as bats, spiders, webs, pumpkin, skulls, and more.
• Beautiful Decoration - Looking for a fun way to decorate your porch, fireplace mantel, tree bows, gift baskets, yards, windows, bookshelf, railings, etc. all in one? DIY Halloween ribbon garland is the perfect craft this holiday season!
• Timeless: The tradition plaid ribbons will never go out of style, rich in deep Autumn orange, gold & browns, they're perfect for all types of Fall theme DIY crafts.