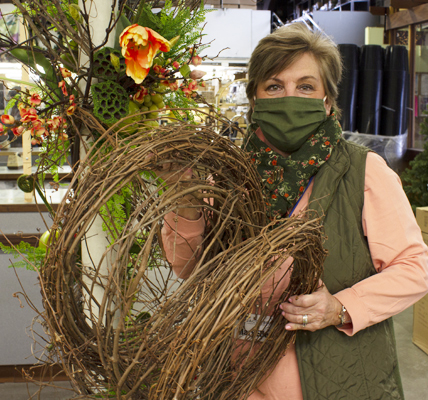 Grapevine Garland.
With MaryEllen Bodio.

With over thirty years in the business, Sales Associate MaryEllen has extensive experience designing and transforming Grapevine Garland.

Here's what she loves about this selection:
• Natural Material - Each Grapevine Twig has been hand-woven using traditional natural vine, which is durable, long-lasting. It creates a high ornamental and decorative atmosphere for any natural setting.
• DIY Applicable - These garlands can do all kinds of DIY preparation projects, it's also suitable for decorating a room directly as rustic decorations, or weaved around existing structures such as stairs, entryways and support beams.
• Perfect Base: Grapevine garlands and wreaths are excellent basic components for dried flowers and artificial flowers. Whether it's a festive Christmas design, or something more rustic and wild for Spring or Fall, it's only limitations for combinations are our imaginations.