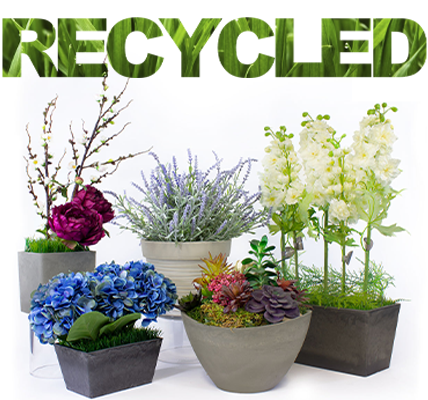 To celebrate Earth Day, and our commitment to bringing you more sustainable and eco-friendly products, we're highlighting some of our top picks.
Choosing Recycled Glass means you never have to compromise on quality, or your bottom line. Customers love that not only is our Recycled Glass environmentally friendly, it's elegant and affordable too.
Recycled Plastic Planters
These stylish, weather-resistant planters are available in an array of colors and sizes to add a custom touch to your green projects.
Did you know we also offer completely waterproof recycled Display Buckets? These lightweight, attractive and economical buckets will showcase your flowers or bouquets, enhancing any retail space. They're long lasting and will not degrade like most tin or galvanized buckets that are constantly exposed to water.
FibreFlora™ Design Media
Derived from natural volcanic basalt rock, this product is easy-to-use to create stunning arrangements for any customer. Effortlessly create natural looking designs with fast soaking, excellent water storage capacity.
Biodegradable Plastic Sleeves are becoming the preferred choice for flower wrapping, not just because it is waterproof and it can enhance the flower's presentation, it can make transport and product packaging more sustainable. These eco-friendly clear transparent Sleeves are the ethical choice for a cleaner environment and an ECO-FRIENDLY future.
Our Biodegradable Cello roll wrap is a certified home-compostable cling wrap. It's clingy, but won't overstay it's welcome! It works just like the conventional plastic cling wrap you know, but won't stick around for hundreds of years polluting our environment after you've used it. Shop Biodegradable products below, and scroll down to view all our promoted Eco-Friendly lines.