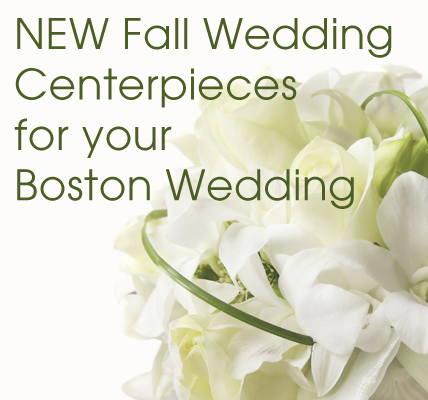 Let's put the bang back into Boston's Fall Wedding Biz....
It is no shock to anyone of the massive impact the recession had made on wedding planning budgets throughout Boston. Guest lists have been cut back, the extra frills have been eradicated and some of the major flower presence has been eliminated. Florists across the country have seen the diminished demand for detail that once left an audience with jaw dropping reactions. Although there is no denying this fact, rumor has it that Boston is begging to put a bit more bang back into the wedding biz. These new Fall trends are just what we need to glam back some the great wedding halls of this city.
Large and high table centerpieces are making a huge comeback…. with a few alterations. First, the style is SIMPLE. Instead of several different varieties of flowers in one vase, brides are asking for an elegant mass of one particular bloom, such as white hybrid lilies, orchids (a suggestion - James Story) or hydrangeas. Also, don't be afraid to mix the color of the presentation. Hydrangeas for instance, cause quite a reaction on their own when mixed with shades of green, antique green, red/green, blue/green or even a spot of white. This arrangement is a "no fuss" design while still emulating a dramatic crisp autumn look. Add a few votive in a clear glass square or circular small vase to complete this warm natural theme.
The second evolution to this style using clear large vases that are symmetrical in design. Colored containers are out and confuse the displays clear beauty so stick with a straightforward design that is STURDY! Another type of piece making headway is the use of pottery. This may be something worth looking into since they fit well within the fall theme and are easily reusable during planting season. Good Luck planning your wedding this Fall season and try to resurrect the sparkle and elegance that the brides of Boston rightfully deserve.
For more ideas on containers and other wedding supplies, visit Jacobson's located at 500 Albany Street  in the Back Bay of Boston or shop online at www.ShopJacobson.com
By: Suzanne Canale
Source: South End Wedding Planner - Examiner.com