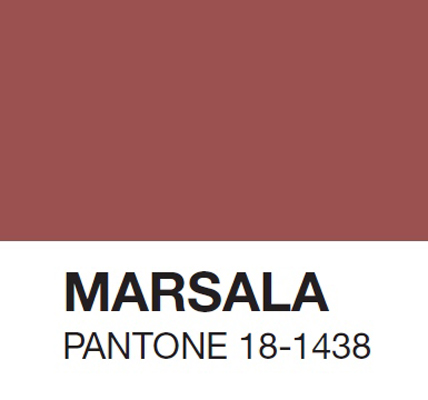 Pantone, an X-Rite comany and color authority, announced Marsala, a naturally robust and earthy wine red, as its Color of the Year for 2015.
"While Radiant Orchid, the captivating 2014 color of the year, encouraged creativity and innovation, Marsala enriches our mind, body and soul, exuding confidence and stability," said Leatrice Elseman, executive director of the Pantone Color Institute, in a news release. "Much like the fortified wine that gives Marsala its name, this tasteful hue embodies the satisfying richness of a fulfilling meal, while its grounding red-brown roots emanate a sophisticated, natural earthiness. This hearty, yet stylish tone is universally appealing and translates easily to fashion, beauty, industrial design, home furnishings and interiors."
Marsala is an elegant statement color when used on its own or as an accent when paried with other colors. It combines well with neutrals and, because of its burnished undertones, it is also compatible with golden yellows and greens and blues in the vibrant range, according to Pantone.
Marsala-colored flowers include burgundy carnations, clematis, snapdragons, peonies, dahlias, Cymbidium orchids and Black Bacarra roses, which can accomodate other earthy colors in arrangements, like reds and greens; or the burgundy blossoms stand out when paired with white roses or baby's breath.
FiftyFlowers.com believes that "Marsala will work wonderfully with the rustic and vintage weddings that are so popular right now, plus its sohpistication could play well with elegant and formal affairs as well. Try pairing Marsala with lighter shades of blue and lavender for a vintage event or pair with a palette of neutrals for a rustic wedding. Going for a more formal affair? Try pairing with other rich hues, like plum and burgundy."
Jacklyn Gough, floral designer at The Skinny Vase in Fort Lauderdale, FL, said in a written statement, "In floral design, I'm most excited to see this color in floral arrangements; monochromatic color schemes and burgundy Cymbidium orchids, Hypericum berries, cranberry antique Hydrangea mixed with earth tones for a wow impact. I'm excited to see this color used as an accent in floristry."
"I'm a big fan of detailed arrangements and have a feeling others will get fancy with beaded wire and ribbon treatments on bouquets, just to name a couple. Now, let's raise a glass of red wine to 2015 and make the very best of this earthy, clay-like and lava-rock color Pantone has just declared as Marsala."
By Richard Lutes
Source: Produce News Issue: January 12-26, 2015