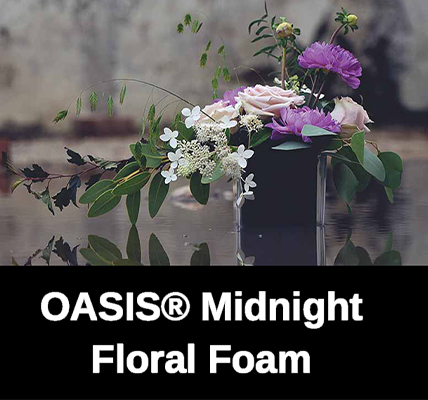 After wowing the European market, Midnight Foam is finally in the US and Jacobson is the FIRST wholesaler in the country to get it. With 25% less coverage than traditional foam, OASIS Midnight's gray turns ink black when soaked to create bold, elegant designs.
Choose minimalist looks that are both on-trend and perfect for the modern consumer, plus save money on coverage and meet the vision of your clients. This jet black canvas will elevate your traditional designs while meeting the same high quality standards you expect from OASIS foam.
Did we mention it takes the guess work out of adding water to your arrangements? When the deep black fades to gray you know it's time to hydrate. Plus, the Maxlife technology keeps flowers alive up to 50% longer than other foam and Midnight is 100% biodegradable. Join the floral trend that's changing the game by picking up OASIS Midnight foam at Jacobson today!