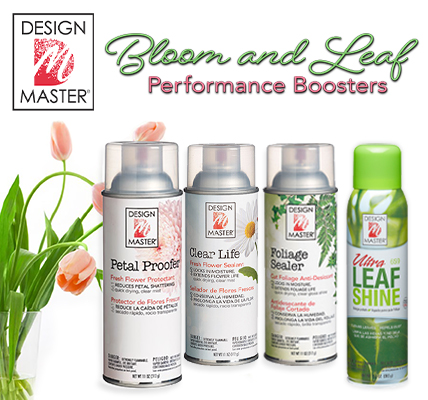 Fast-drying, clear protectant seals in moisture of fresh-cut foliage. Updated in a natural-sheen finish.
Keeps greenery looking fresh longer, even out of water.
Prolongs the crispness of Leatherleaf, Pittosporum, Italian Ruscus, Ivy, Fern, Smilax, Jasmine, Christmas Greens plus more.
Applied while at its freshest, reduces shattering of Asparagus varieties.
Ideal for moon gates, arches, hoops, chuppahs, garlands, wreaths…anywhere you use fresh greenery without a water source.
Invisible protectant for delicate, fresh blossoms prone to shattering or petal breakage. Apply to calyx, dries fast to a natural luster.
Helps ensure delicate flowers arrive in perfect condition.Reduces shattering of ray florets on chrysanthemum-type blooms.
Spray the backside of tulips and peonies to keep blooms from fully blowing open.
Prolongs the beauty of all mums, pompons, alstromeria, gardenias, camellias, lilacs and other sensitive blossoms.
Clear sealant locks in vital moisture and slows transpiration of fresh flowers. Quick-drying, satin finish.
Assures longer life and lasting beauty of blossoms, even those out of water.
Invaluable tool for busy florists who need to design in advance.
Use with any design style, vase designs or floral foam arrangements.
Ideal on blooms out-of-water such as flower crowns, floral jewelry, flower purses, corsages, boutonnières for wedding and prom.
Natural-sheen leaf polish for cut greenery and foliage plants. No alcohol or chemical odor.
Cleans and renews appearance of dulled or water-spotted leaves.
Easy to use for everyday or production-line design.
Provides the polished touch to your designs.
Read about Design Masters spray paint collections HERE!