09/25/17
The Society of American Florists welcomes new volunteer leaders to its Board of Directors and Councils. Members elected three leaders — one from each segment — to serve on its Board of Directors and nine leaders to serve on its Councils.
The election for new members to serve on the SAF Board of Directors typically takes place during the association's annual convention, with the election results announced during the Keynote Breakfast and Business Session. Since SAF Palm Beach 2017 was canceled on Sept. 5 due to Hurricane Irma, voting members who were registered for the 133rd annual convention received an electronic ballot last week, with Sept. 15 at midnight as the deadline to cast their vote. Those electronic votes were added to the absentee ballots casted by voting members in August.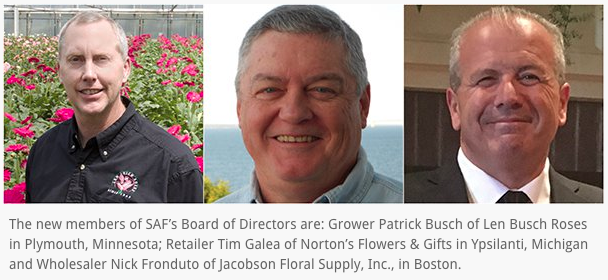 The new members of the SAF Board of Directors are: Grower Patrick Busch of Len Busch Roses in Plymouth, Minnesota; Retailer Tim Galea of Norton's Flowers & Gifts in Ypsilanti, Michigan and Wholesaler Nick Fronduto of Jacobson Floral Supply, Inc., Boston, Massachusetts. Members of SAF's Board of Directors began serving their three-year terms this week.
Twelve candidates ran for nine open Council seats. Candidates for the Growers and the Wholesalers Councils ran uncontested. SAF members voted in July for new leaders to serve on SAF's Growers, Retailers and Wholesalers Council for three-year terms. The newly elected Council members are as follows:
Retailers Council: Michael Trogdon of Burge Flower Shop, Inc. in Asheboro, North Carolina; Nikki Lemler, AAF, o fWelke's Milwaukee Florist in Milwaukee, Wisconsin; and Brian Kusuda of Jimmy's Flower Shop, Inc., in Ogden, Utah.
Wholesalers Council: Liza Atwood of Fifty Flowers in Boise, Idaho; Tim Dewey of DVFlora in Sewell, New Jersey; and Anne Stewart and Smithers-Oasis North American Operations in Kent, Ohio.
Growers Council: Hank Bukowski of The Scotts Miracle-Gro Company in Marysville, Ohio; Rodi Groot of Sun Valley Floral Group in Oxnard, California; and Herb Van der Ende, Jr. of Burnaby Lake Greenhouses, Ltd. in Surrey, British Columbia.
source: SAF https://safnow.org/members-elect-three-new-leaders-board-directors/