03/25/16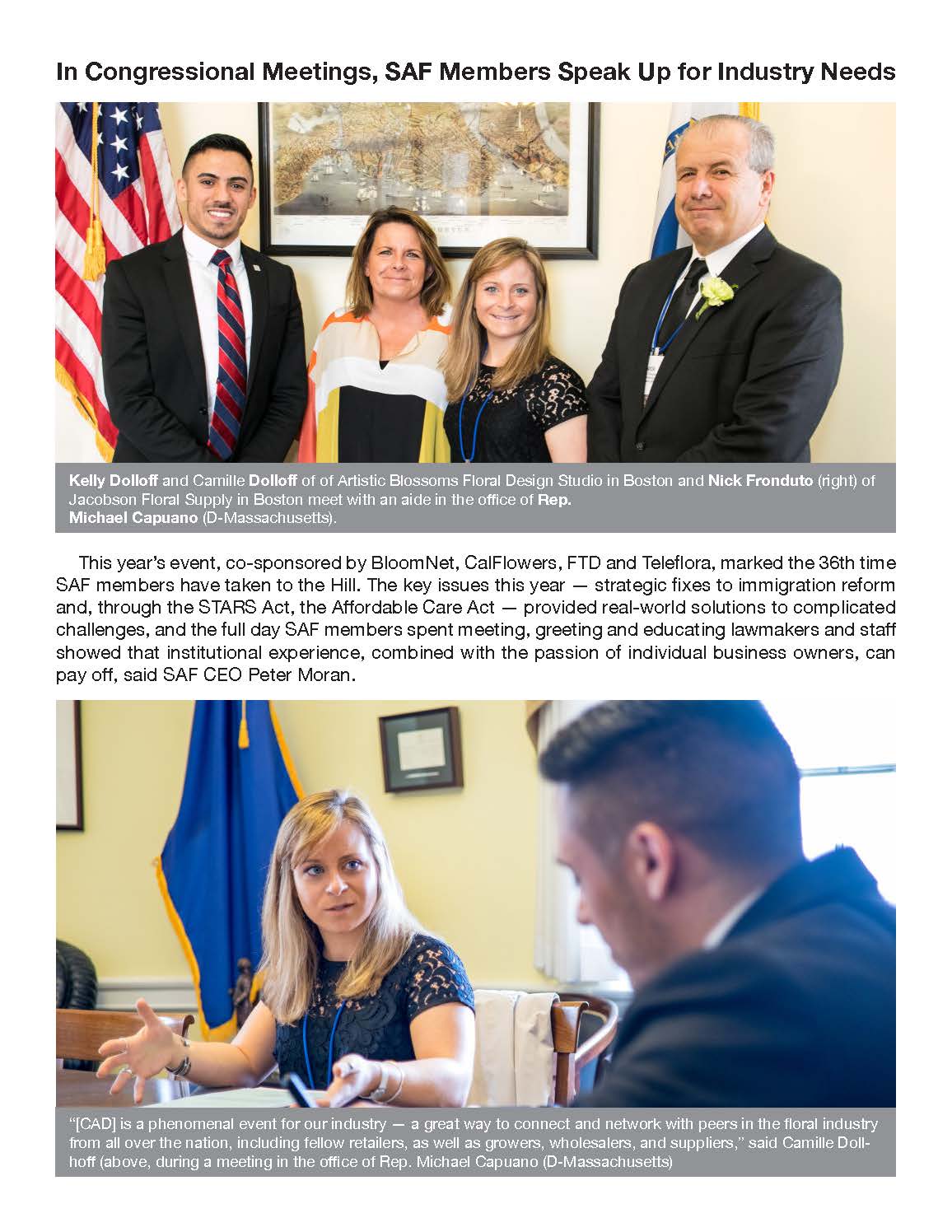 source: https://safnow.org/in-congressional-meetings-saf-members-speak-up-for-industry-needs/
By Mary Westbrook
At home in Phoenix, Arizona, Cheryl and Brad Denham have tried for some time without luck to schedule a meeting with Sen. Jeff Flake, the state's junior Republican senator.
So, thinking Sen. Flake might be easier to reach in Washington, the Denhams were excited to participate in the Society of American Florists' Congressional Action Days (CAD) this year. Finally, the owners of Arizona Family Florist would get their face time — the chance to tell the lawmaker about their business and the challenges they face.
Then, 15 minutes before their scheduled meeting, Sen. Flake was called to the Senate floor for a vote. Missed him again? Not this time.
"A staff member took us down to where they were voting and then he came into the hall to meet with us," Brad said. "We had an awesome conversation. He was very engaging."
A person might be forgiven for thinking, "Try to get something done in Washington now? Why bother?"
But the close to 90 floral industry members who gathered in the nation's capital for CAD didn't get that pessimistic message. Instead, they brought determination, stories of hard work, and practical, targeted solutions to dozens of meetings on Capitol Hill, replacing gridlock and stand-offs with open lines of communication and new contacts. While not every CAD attendee was rushed to the Senate floor for a one-on-one chat, all of them had the opportunity to meet with key staff members of elected officials.
And SAF's delegation took its civic role — to advocate industry issues — seriously. Many members ended the annual two-day conference with a sense of deep satisfaction, not to mention smartphones filled with names, phone numbers and emails from congressional staff members and other industry members around the country.
"I always feel very empowered by my involvement at Congressional Action Days," said David Mitchell, AAF, of Mitchell's Flower Shop, and a past chairman of SAF's former Government Relations Committee (now the Government Joint Council). "Meeting with our representatives and having them listen to our stories and hear our concerns reminds me that we live in a great country that values all of its citizens." https://safnow.org/consumer-joint-council/
Tanner Wheat of Lafayette Florist, Gift Shop & Garden Center in Lafayette, Colorado, agreed. "CAD puts us into a position to make actual change and to speak with congress about issues that will affect our business, this opportunity is priceless," said Wheat, who attended CAD alongside his father, Brian Wheat, AAF, PFCI. "Running a small business takes a lot of effort and hours, and [without SAF], an opportunity to try to plan a time to talk with Congress would be impossible. SAF gives us this wonderful opportunity, an opportunity to create change… a platform to be heard."
This year's event, co-sponsored by BloomNet, CalFlowers, FTD and Teleflora, marked the 36th time SAF members have taken to the Hill. The key issues this year — strategic fixes to immigration reform and, through the STARS Act, the Affordable Care Act — provided real-world solutions to complicated challenges, and the full day SAF members spent meeting, greeting and educating lawmakers and staff showed that institutional experience, combined with the passion of individual business owners, can pay off, said SAF CEO Peter Moran. https://safnow.org/cad-2016/
Some of the highlights of those meetings include:
Finding Familiar Faces
"I know you." Those three words may not sound like cause for celebration, but when the person saying them is a legislative staff member for Sen. John McCain (R-Arizona), they are.
"He remembered us from last year!" cheered Cheryl and Brad Denham, along with first-time attendee Kim Dwyer of Mountain High Flowers in Sedona andDarrell Housden of Teleflora.
The staff member even shared his frustration that Congress hadn't moved on the issues since the group's visit last year.
"He committed to getting more information to the senator," the Arizona team said, proving that lobbyist guru Stephanie Vance was correct when shereminded the SAF delegation a day earlier that staff members can be important gateways to lawmakers. https://safnow.org/cad-2016/
Presenting the Facts
By clarifying the definition of seasonal employees/workers in the ACA and simplifying the methods seasonal employers use to determine business size, The STARS Act has been called a common sense solution by many people. Before lawmakers can support the fixes the law provides, however, they have to understand the problems exist.
For the past several years, SAF members have played a key role in bringing the challenges and the STARS Act to the attention of Congress, and this year was no exception.http://www.multibriefs.com/briefs/saf/041515.html
When first-time attendee and SAF Retailers Council Member Kristen Gainan and Alan Sparboe, both of Gainan's Floral and Greenhouses in Billings, Montana, met with an aide from the office of Sen. Jon Tester (D-Montana), the aide acknowledged the importance of seasonal work to the state and country's economies. "The staff member agreed that having two definitions [of seasonal worker in the law] is confusing," Gainan said.
Laying the Groundwork
Anne Stewart of Smithers-Oasis said a staff member for Rep. Tim Ryan (D-Ohio) was "very interested" in the issues presented in the STARS Act. "She promised to bring it forward to the congressman and asked us to leave materials behind," she said.
Likewise, a staff member in the office of Sen. John Thune (R-South Dakota) was "positive" and sympathetic to the needs for streamlined regulations in immigration reform, said Jackie McCartan and Professional Floral Communicators-International Trustee Jenny Behlings, AAF, AIFD, PFCI, SDCF, of Jenny's Flora in Custer, South Dakota. "He spoke of other agriculture industries in our state that are also affected, including sheep/wool and poultry producers."
Those requests for more information and connections aren't niceties, insist Washington insiders such Shawn McBurney, SAF's senior director of government relations. Instead, they are critical stepping stones to stronger relationships between constituents and lawmakers. (Timely reminder to CAD attendees: This week is a good time to follow up with lawmakers about those leave-behind materials and to thank aides for their time during CAD meetings.)
The Value of Teamwork — and Persistence
For both first-timers at CAD and SAF members who have been coming to D.C. for years, the value of taking time away from the daily work of running a business became clear by the end of the day Tuesday, after hours (and miles) spent walking around Capitol Hill.
"It is so important to keep our representatives knowledgeable about the floral industry's issues," said Robert Kitayama of Kitayama Brothers Watsonville, California.
Rod Crittenden, executive vice president and CEO of the Michigan Floral Association, added that floral industry members can "move our industry positions forward" when they come together. "There is strength in numbers," he added.
For Mona Haberer of Hortica in Edwardsville, Illinois, CAD "gave me a better understanding of the political process and was a great way to network with floral industry peers," she said. "[It was] definitely worth the time and effort."
Ted Todd of The Blossom Shop Florist in Charlotte, North Carolina, described CAD as "an enlightening experience each time I go. It is always a reminder how complex our government is and good to have a glimpse at how it functions," he said. "It is a reminder that individuals can maybe, sometimes make a difference."
Bridget Carlson, AAF, of Ashland Addison Florist Company in Chicago came away with a similar take — and reinforcement of the idea that communicating, constantly and consistently, is key to reaching Congress.
"What we do for a living collectively is so easy for the lawmakers to understand, yet they do not often think of our marketplace when bills come for their signatures," she said. "We have to continue to tell our story so that someday a lawmaker will remember the importance of our businesses to the communities and the economy when they put their ink to paper."
That's a message Karen Fountain, AAF, of Flowers 'n' Ferns in Burke, Virginia, can get behind. "It is so important for our members to hear from our industry," said Fountain, who has attended about 25 CAD events over the years. "We provide them with a perspective that only we can provide. The more stories they hear the better informed our members of Congress are to work on the legislation that affect us all."
Learn more about the CAD Capitol Hill meetings directly from SAF members.https://www.youtube.com/user/SAFVision