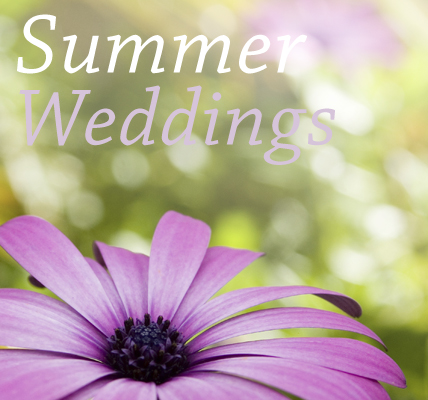 Author: Maria Thomas
A lot of people dream of having a summer wedding.  So, if you are the lucky one who is getting married this summer, then you can think of a number of ideas to make your wedding unique and memorable.  From vibrant colors to warm sunshine to ravishing outdoor settings, everything can add touch of elegance and class to your wedding.

Summer weddings are ideal for outdoor settings such as a beach, garden, or a beautiful yard.  Use fresh fruits and vegetables to decorate -- perhaps including Clementine and cumquats in your flower arrangements, or simply filling a large vase with bright yellow lemons.  An extra-summery idea would be to use bright tablecloths, napkins with a few sunflowers in metal watering cans as the centerpieces.

It's summer time, so why not lighten the ambience a little?  A pianist will be simply perfect if you're having a formal cocktail hour, but if you want to really embrace the season, consider going with alternate summer music styles.  Try creating a laid-back or elegant style during your cocktail hour with the help of drums. Your guest will love it!

The cake should be light and fluffy-something like an angel food cake topped with whipped cream and berries.  Top the cake with fresh tropical flowers such as hibiscus, or decorate with shells or starfish.  Serve light sorbet and gelato.  As far as the food is concerned, think of fresh seasonal vegetables and fruits.  You can serve grilled chicken, potato and sea-food.

When it comes to flower arrangements and decorations, you are in luck!  This is the time of the year, when huge varieties of flowers are available.  The most popular choice includes roses, daisies, geraniums, poppies, carnations, lilies, sunflowers and pansies.  With such lovely flowers adoring your wedding decoration, the event is certainly going to be bright and cheerful.

Well, above are some of the ideas to make your summer wedding unique and exquisite.  So, plan your best and get the best outcomes!
Article Source: http://www.articlesbase.com/interior-design-articles/summer-wedding-ideas-806242.html