06/29/15
Dear Loyal Customers,
Part of our obligation and responsibility as both members of the floral industry and the overall business community, is to do as much as we can to promote sustainability, wherever it is practical.
One of the areas in which we can make an impact is the responsible recycling and reuse of corrugated cardboard boxes. Our partners on the fresh side have been doing this for years with much success.
On future deliveries, you will see this logo: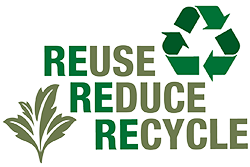 This will indicate to you that we are trying to make a difference by keeping cardboard out of landfills and using it to get our product to you.
Thank you for your continued loyalty and support.

Nick Fronduto
Chief Operating Officer